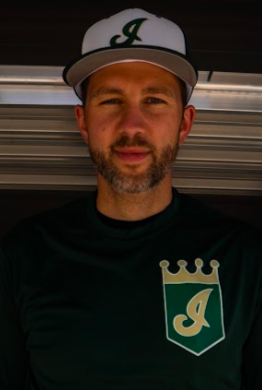 Bio
Current Role: 15U Head Coach
Jason Decker grew up playing baseball in Dover, Pennsylvania. He followed his love for baseball to Mount Vernon (Ohio) Nazarene University, where he played four years and ended his career as one of only 14 pitchers in the 40-year history of MVNU baseball to win 20 games in a career. In his last two years, he was a member of the 2008 NCCAA World Series Champion and threw 19 complete games. Decker graduated in 2009 with a 4.0 GPA and dual Bachelors degrees in Criminal Justice and Intercultural Studies.
Decker continued his education at Nazarene Theological Seminary in Kansas City, Missouri, where he graduated in 2011 with his Masters of Arts in Intercultural Studies. He spent four-and-a-half years working as a volunteer missionary at JESUS Film Harvest Partners in Olathe, KS, with roles in writing, editing, trip coordination, and field services, before becoming a stay-at-home-dad in January 2016. He resides in Lenexa, KS with his wife, Theresa, two boys, Elias and Callum, and twin daughters Eliana and Adalaigh. 

Playing Experience
Finished 19 of 30 career games started, with 21 wins. Was top ten in the nation both junior and senior year in least amount of walks per nine innings. Ended his career with a two-hit shutout at the Christian College World Series. 
Awards & Honors
2009
Conference and Region Honorable Mention NCCAA and NAIA Scholar-Athlete
CoSIDA/ESPN The Magazine Academic All-America First Team
Cougar Award (Athletic and Spiritual leadership)
Foster Award (Male Athlete of the Year)
Team Captain 
2008
Conference and Region Honorable Mention
NCCAA and NAIA Scholar-Athlete
CoSIDA/ESPN The Magazine Academic All-America 2nd Team
Coaching Experience
IMPACT Athletes Baseball (2015-present)