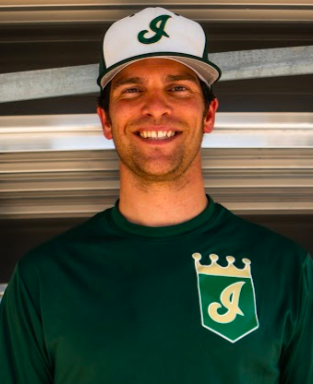 Bio
Current Role: 18U Head Coach
Jason Haniger grew up playing baseball in Santa Clara, California. Haniger pursued a baseball scholarship at Georgia Tech in Atlanta, Georgia. During his first two seasons as a Yellow Jacket, Haniger served as the backup catcher to Matt Wieters (All-Star catcher for the Baltimore Orioles). As a junior, Haniger started for Georgia Tech and was drafted in the 19th round by the Pittsburgh Pirates in the 2008 MLB Draft. Haniger decided to return to Tech for his senior year and graduated with a Bachelors of Science in Management. 
Following graduation, Haniger pursued his Masters of Education at Rockhurst University in Kansas City, Missouri. During this time, Haniger served as a graduate assistant for the Rockhurst University baseball team. His responsibilities included working with catchers and hitters, as well as implementing a strength and conditioning program. In addition to coaching, Haniger served the baseball team by conducting bible studies and leading a group of 20 baseball players on a mission trip to the Dominican Republic through Fellowship of Christian Athletes and SCORE International. 
After graduating from Rockhurst University, Haniger was hired as a 6th grade math teacher in the North Kansas City School District. Haniger served as the assistant varsity baseball coach at Rockhurst High School for two seasons prior to starting IMPACT Athletes of Kansas City. Haniger received his Doctorate of Educational Leadership from Saint Louis University. Haniger served as the Assistant Principal at New Mark Middle School. Haniger's current role is Principal of Barry School in the Platte County School District. He currently resides in Kansas City, MO with his wife, Erin, and his three daughters, Evluhia, Eyla, and Zoe. 
Playing Experience
In 135 games, Haniger posted a .320 batting average, 19 home runs, 94 RBI, and a .534 slugging percentage. 
Awards & Honors
2020
North Kansas City Schools Culture of Excellence Award for Service
2017
Missouri Coach of the Year - Community for Coaches

2016
North Kansas City Schools Superintendent's Leadership Institute Vicki L. Baker Award
2009
Johnny Bench Award Nominee
ACC Postgraduate Scholarship
Lowes Senior Class Award Finalist
Robert Cup Award
Peach of an Athlete (Athletic Role Model)
Georgia Tech Baseball Team Captain
2008
Pittsburgh Pirates 19th round draft pick
NCAA Athens Regional All-Tournament Team
CoSIDA Academic All-District 3rd Team
Bobby Dodd Scholarship
All-ACC Academic Baseball Team
Coaching Experience

Summer Baseball (2011-present)
Rockhurst High School Baseball (2012-2013)
Rockhurst University Baseball (2010-2011)
Universities and Organizations of Former Players

Arizona Diamondbacks
Kansas City Royals
Kansas City T-Bones
Los Angeles Angels
Milwaukee Brewers
Tampa Bay Rays


University of Arkansas
Austin Peay
Barton Community College
Benedictine
Central Arkansas
Creighton University
Culver Stockton
Dodge City Community College
Kansas University
Missouri State
Northwest Missouri State
Pitt State
Oklahoma State
Park University
Purdue
Rockhurst University
St. Ambrose
Villanova
Washburn
Wichita State
UNC Charlotte
University of Central Missouri
University of the Ozarks
Iowa Central Community College
Columbia College
Ottawa University
Quincy University
Central Methodist University