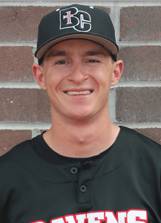 Bio
Current Role: 16U Head Coach.
Luke Temperelli, a lifelong Kansas City resident, grew up playing baseball all around the metro. Graduating from Platte County High School in 2013, Temperelli pitched for the Pirates. After earning a baseball scholarship to William Jewell College in Liberty, Missouri, Temperelli transferred following his freshman year to Benedictine College in Atchison, Kansas. During his three years at Benedictine College, Temperelli contributed as both a reliever and starter for Coach Doc Beeman.
Temperelli will graduate from Benedictine in the Fall of 2017 with a double major in Secondary Education and Social Sciences. He currently teaches middle school Social Studies at Smithville Middle School while also pursuing a masters and doctorate degree in education. Temperelli plans to become a school adminstrator as well as a baseball and football coach. 
Playing Experience
William Jewell, â??14
Benedictine College: 2016 - 39.1 IP .287 BAA 1.5 WHIP 
Genesee Rapids: Summer â??16 â?? 21.1 IP 13 Kâ??s 5.9 ERA 

Awards & Honors
2013 Suburban Conference 1st team All-Conference Pitcher
2013 Kansas City Star Scholar Athlete
2013 Platte County Scholar Athlete of the Year
2015-16 Benedictine College Scholar Athlete 
Coaching Experience
IMPACT Athletes KC (2017-present)
Smithville High School (2019-present)