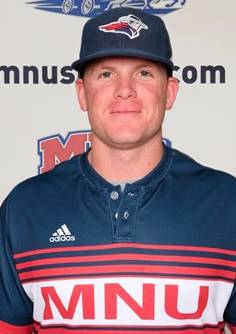 Bio
Current Role: Fall Assistant Coach 15U
Matt Williams grew up playing baseball in Michigan. After a successful and decorated prep career Matt pursued a baseball scholarship at Duke University in Durham, North Carolina. While at Duke, Matt was a four-year starting catcher and played 216 games in his four year career. After graduation, Matt was drafted by the Chicago Cubs in the 18th round of the 2009 MLB draft and went on to play one year of professional baseball before retiring to pursue a career in ministry and coaching.

Matt followed his wife to her hometown and moved to Kansas City. Mattâ??s first career was in full-time ministry and included multiple positions in the local church and collegiate campus ministry. While working in full-time ministry, Matt began his coaching career coaching youth summer baseball part-time. After almost five years, Matt decided to pursue coaching as a full-time career. 

Currently, Matt serves as the Assistant Baseball Coach at MidAmerica Nazarene University (NAIA) and is the founder of Catcher University - a catcher-specific training organization that offers camps, lessons, and online instruction. Matt also spends part of his weeks working with a non-profit called Community for Coaches whose mission is to "help coaches develop and successfully live out a transformational purpose, thus becoming agents of eternal change in the lives of those whom they influence.â?? Mattâ??s personal coaching purpose statement is, â??I coach to develop my players into men of integrity who will love, serve, and lead others with confidence, excellence, and purpose.â??

Matt currently resides in Overland Park, KS with his wife.

Playing Experience
Key Stats: .310 career hitter while at Duke 
Awards & Honors
18th round draft pick of the Chicago Cubs in the 2009 MLB Draft
1 year of professional baseball experience at the Rookie and A- MiLB levels
2009 NCAA Johnny Bench Award Semi-Finalist (given to top Division 1 catcher)
2009 NCAA Loweâ??s Senior class Award Nominee
4x ACC Honor Roll member
3x All-ACC Academic Team
Coaching Experience
Summer Baseball (2011-present)
Founder/Co-Owner of Catcher University (2015-present)
Assistant Baseball Coach at MidAmerica Nazarene University (2014-present)
Private Instructor (2011-present)
Co-Founder/Owner of Complete Game Baseball Club (2013-2016)
Kansas City Christian School Varsity Head Baseball Coach (2013)