The FAQs below should give you a good idea regarding why we exist, what we hope to accomplish, and what we have to offer.
What is your mission?
Our motto is to "pursue the crown."  In 1 Corinthians 9:25, Paul wrote, "Everyone who competes in the games goes into strict training.  They do it to get a crown that will not last, but we do it to get a crown that will last forever" (NIV).  As athletes, we dedicate countless hours of attention and focus to developing in our sport.  Although we should pursue our passion in athletics with all of our ability, we should equally be pursuing our relationship with God because as Paul writes, the crowns of our sport will not last, but the crown of Christ will last forever.
What this means for us as coaches and players is that we ought to play the game differently than the average baseball player does.  We must buy in to the following values: Hustle, Attitude, and Toughness.  When other teams, parents, umpires, and coaches watch us play, we aspire for them to notice a difference in the way we play the game.  We play for a higher purpose.  We do not take our God-given talents for granted.  We play every pitch as if it were our last.  Our coaches and players hustle on and off the field at all times. We have good attitudes, encourage one another, and respond appropriately both to victory and adversity.  Finally, we play the game with an unrivaled toughness, both physically and mentally.
Do you play in showcase tournaments?
Many teams these days pour a lot of money, time, and travel into showcase baseball. Although it is extremely important for our boys to be seen by collegiate and professional scouts, the timing in which this occurs is of the utmost importance.  Based on our experience as players, as well as our teammates' experiences, scouts do not spend much time at showcases for players that are younger than 17 years old.  There are simply too many players that are 17 and 18 years old that the scouts need to evaluate and recruit.
After fall ball, we give our families feedback on our recommendations regarding which tournaments we should pursue. We then survey our families on locations, types of tournaments, in-town vs. out of town, etc. From this feedback, we build a schedule that meets the needs of each team.
How many coaches are there and who coaches each team?
We will have four teams for the summer of 2020.  The head coaches for next summer are:
18U Gold: Jason Haniger
18U Green: Luke Temperelli
16U: TJ Dailey
15U: Jason Decker
Our assistant coaches will be a mix of the following:
Luke Miller (C, Columbia College), Scott Bradbury (3B, Rockhurst University), and Tanner Nowatzki (OF, Westminster).
Our goal is to have 3-4 coaches at each practice and 1-2 coaches at each game.
How is the Christian faith weaved into your program?
Our program is open to all players, whether they grew up in the Church or have no faith at all.  We see our role as exposing our players to what a relationship with Christ looks like and how that impacts there lives a young men and athletes.
We attempt to accomplish this through team prayer, bible studies, community service, and fellowship events outside of baseball.
What's your philosophy on playing time in the summer?
We attempt to get each player a start in pool play. When we reseed for bracket play, we try to put the best starting lineup on the field to compete to win and continue playing. During bracket play, we try to find ways to get all players involved, but are not always able to accomplish that.
We tend to hit 10 players in the lineup on the weekends.
During our midweek games, we hit the lineup, play guys in various defensive positions, and throw all of our pitchers. Our goal is development midweek and to give guys opportunities to earn more playing time on the weekends in tournaments.
What are your fall options?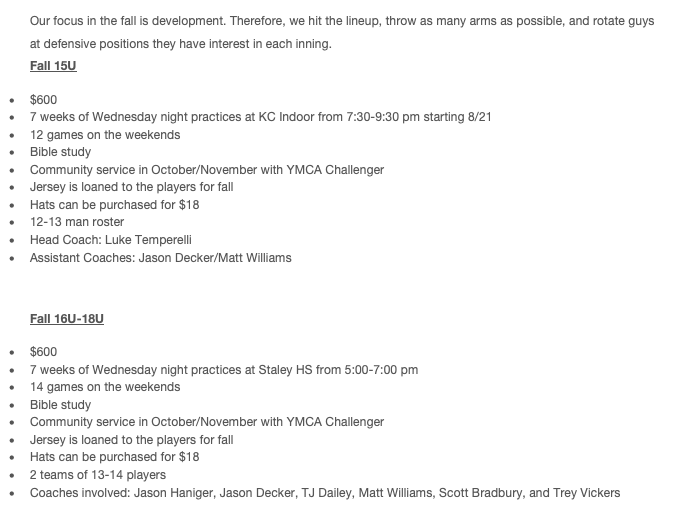 What do the summer teams include?
Summer begins mid May and finishes early to mid July.
Practices are at Staley on Mondays from 4-6 pm (Both 18U teams) and 6-8 pm (15/16).
Tuesdays we try to do community service with YMCA Challenger.
On Wednesdays, 18U teams play each other at St. Pius from 2-5 pm and the 15U plays the 16U from 5-8 pm.
Tournaments tend to start on Thursday or Friday and run through Sunday.  
Each team plays 6 tournaments. The 18U run a golf fundraiser tournament to pay for a 7th tournament, a house to rent for players/coaches, vans to transport the team, and meals.
Insurance, USSSA registration, and some team equipment.
Paid coaches
How much do uniforms cost?
Uniforms are not included in the summer cost. They are purchased separately and tend to run around 200-250 dollars. They should last most players their entire career with IMPACT.
How do you help players with getting recruited?
Collegiate recruiting for the most part takes place at camps/showcases that players attend individually versus a team atmosphere.  Moreover, technology has changed the game which allows for coaches to recruit from their home using their tablets, computers, and smart phones.  There is some recruiting that takes place at summer tournaments, but it typically is minimal.  Feel free to read our college commitment stories on our news page to see what our players have done to excel to the next level.
We utilize a ton of video via Pocket Radar and post to Twitter/Instagram. Moreover, we work with players to assess their goals and give advice on what we feel is realistic.  We help with connecting players with coaches and crafting communication to successfully connect and create future opportunities to perform in front of them.
Ultimately, if a player has the ability to play past high school, they will have the opportunity to keep playing if that's their desire.
What winter options do you offer?
We have recently partnered with KC Indoor and Matt Williams. He will be orchestrating weekly classes players can enroll in (pitching/catching/hitting/fielding). These will take place in November and December. 
During January and February, team practices will be available to enroll in at KC Indoor.
Winter options are a la carte and separate from fall and summer.